You are here
Solicitors and the Accounts Rules, 4th edition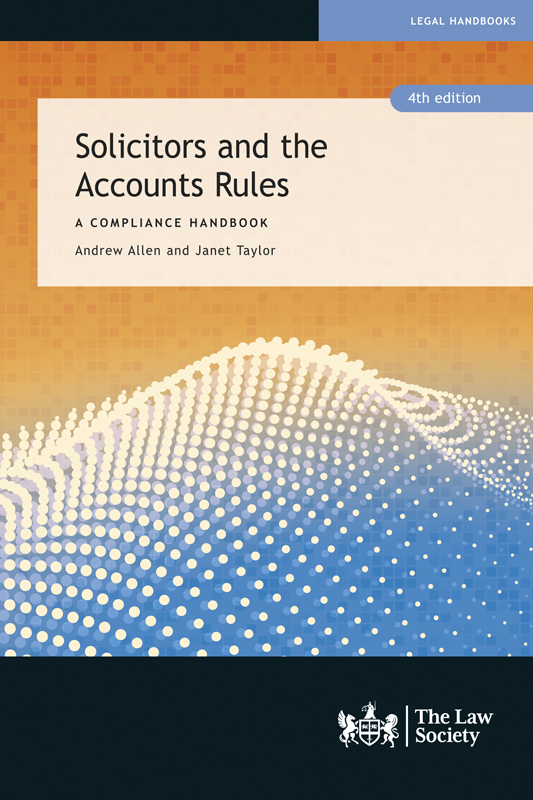 View larger image
Solicitors and the Accounts Rules, 4th edition
A Compliance Handbook
Availability: Published
---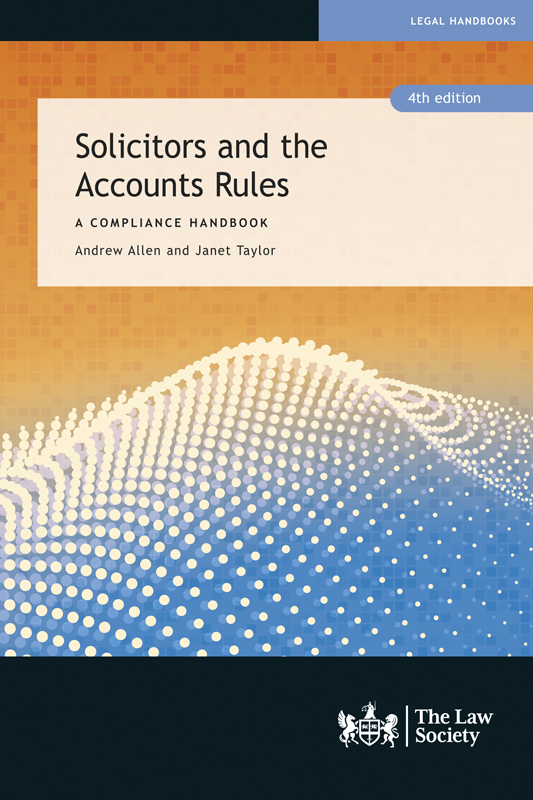 ---
Every firm of solicitors must ensure that they comply effectively with the SRA Accounts Rules.
The fourth edition of Solicitors and the Accounts Rules has been extensively revised and updated to reflect the implementation of the SRA Standards and Regulations in November 2019.
This book:
provides indispensable commentary on the requirements of the SRA Accounts Rules;
highlights the key changes
suggests practical steps that firms can take to ensure effective compliance;
gives a range of practical examples for specific situations; and
explains common breaches of the Rules and how to avoid them.
The SRA Accounts Rules are reproduced in full, complete with appendices and supporting notes on tax and other issues.
---
Reviews
This is an ideal read for anyone working in legal finance, from your most junior legal cashier all the way through to a managing partner who holds the COFA role.
Sarah Charlton, Consultant at DG Legal
I would recommend the Law Society's "Solicitors and the Accounts Rules" to all law firm owners, the COFA and compliance colleagues, and accounts staff. This book has been extensively revised and updated to provide a much needed companion to the SRA Accounts Rules 2019 and has an added layer of interpretation and best practice advice which is hugely reassuring to anyone involved in client money decision-making in the law firm.
Tracey Calvert, Lawyer, Regulatory, Compliance and Ethics Specialist, owner of Oakalls Consultancy
Contents
1. The Regulatory Structure and SRA Accounts Rules; 2. SRA Accounts Rules - an overview; 3. What money is being received and held? 4. Where must the money be held? 5. When can the money be used? 6. What record keeping and other obligations arise? 7. How should any final balance be dealt with? 8. Should the firm be holding and paying over the money? 9. Third Party Managed Accounts; 10. Operating a client's own account; 11. Dealings with other money belonging to clients or third parties; 12. Practical tips for COFAs; 13. The Accountant's Report; 14. What should a firm expect from its Reporting Accountant? 15. VAT and costs; 16. Trust Corporations; 17. Frequently Asked Questions; Appendices.
---
About the Author
Andrew Allen leads PKF Francis Clark's specialist national legal sector team and has been advising law firms on strategic, compliance, tax and regulatory issues for over 20 years. Andrew is the vice chair of the Law Management Section of the Law Society and past chair of the ICAEW Solicitors' Special Interest Group. Janet Taylor joined PKF Francis Clark as part of the firm's specialist legal team in 2018 and is regarded as one of the finest trainers on the SRA Accounts Rules. Janet is the current subject matter expert for the ICAEW's Solicitors Community Advisory Group and has been advising law firms on the Accounts Rules and regulatory matters for over 20 years.
infoProduct information
Category
Regulation and compliance
Published
August 2021
Publisher
The Law Society
ISBN
9781784460181
Format
Paperback
272 Pages