You are here
Assessing and Addressing Risk and Compliance in Your Law Firm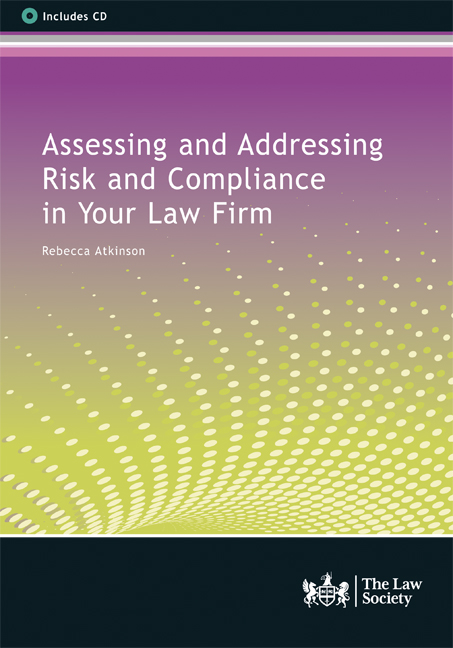 View larger image
Assessing and Addressing Risk and Compliance in Your Law Firm
Availability: Forthcoming
Compliance can be complicated and expensive. New risks emerge and rules change – and ignorance is no defence. This new and unique book is aimed at anyone tasked with assessing and addressing risk and compliance in their firm.  
The book briefly explores the history of risk in law firms and then details the kinds of risks that might come up. It then outlines how you can conduct a gap analysis of risk in your firm and explains how you might address the risks you find. Finally, it sets out how other law firms handle risk from a team perspective.
The accompanying CD-ROM contains draft risk registers, policies and procedures which can be tailored to meet the requirements of your own firm.
Assessing and Addressing Risk and Compliance in Your Law Firm is essential reading for all law firms to ensure they are compliant and risk averse. 
---
Contents
Part 1. What are the risks? 1. Complaints and insurance; 2. Data protection; 3. Cybercrime; 4. AML compliance; 5. Statutory compliance; 6. Regulatory compliance; 7. Risk management; 8. Additional areas to consider; Part 2. Addressing risk; 9. Addressing risk in your firm; 10. Risk management: How other firms do it.
About the Author
Rebecca Atkinson is Director of Risk & Compliance for Howard Kennedy LLP and heads up the firm's risk function. She was called to the English Bar in 2006 and recently passed the New York Bar exams. Rebecca is a regular writer of articles on the subject of risk and compliance and you may hear her deliver podcasts and webinars.
Category
Regulation and compliance
Published
August 2020
Publisher
The Law Society
ISBN
9781784461508
Format
Paperback + CD
224 Pages