You are here
COFAs Toolkit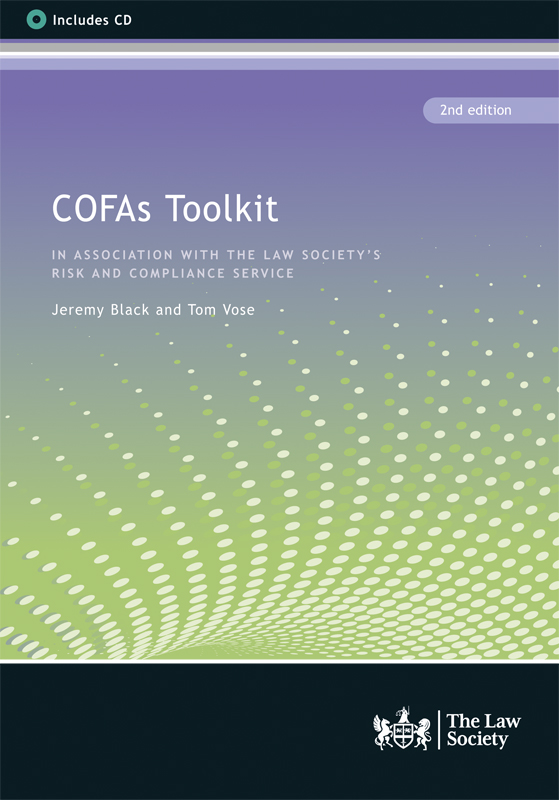 View larger image
COFAs Toolkit
In association with the Law Society's Risk and Compliance Service, 2nd edition
Availability: Published
Every law firm is required to have a Compliance Officer for Finance and Administration (COFA).
They have two key responsibilities:
to ensure compliance with the SRA Accounts Rules throughout the firm and;
to ensure a prompt report is made to the SRA of any serious breach of the Accounts Rules.
This toolkit will help COFAs and anyone working in the accounts department of a law firm to implement and oversee systems to ensure compliance with the SRA Accounts Rules.
The book and accompanying CD-ROM include:
procedural checklists;
recording and monitoring forms;
draft letters to the SRA and;
guidance on matter file reviews and common breaches of the Accounts Rules.
This second edition has been updated and expanded to reflect the implementation of SRA Standards and Regulations in November 2019 and includes additional guidance on the new Accounts Rules and a copy of the Rules.
---
Reviews
It is a 'must-have' for any new practice and indispensable for COFAs in virtually any firm, as the one-stop shop for key COFA guidance. This 'super-espresso' of the Law Society's toolkits thoroughly deserves its place on any firm's bookshelf.
Fiona du Feu runs a risk and compliance consultancy for lawyers.
Contents
1. Overview of the principal regulatory requirements relevant to COFAs; 2. Becoming a COFA; 3. Responsibilities of the COFA; 4. Further guidance. Appendices.
About the Author
Jeremy Black is a partner in Deloitte's professional practices group and has over 20 years' experience of advising law firms on their accounts. He was a co-author of the 1st edition of the COFAs Toolkit. Tom Vose is a manager in the Deloitte Private group with over 6 years' experience dedicating the majority of his time to the audit of professional services clients.
Category
Regulation and compliance
Published
August 2020
Publisher
The Law Society
ISBN
9781784460549
Format
Paperback + CD
80 Pages