You are here
Drafting Confidentiality Agreements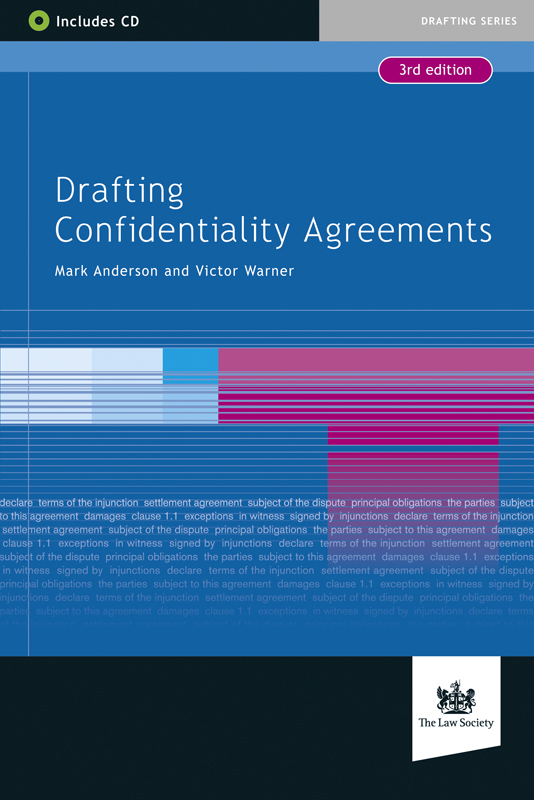 View larger image
Drafting Confidentiality Agreements
3rd Edition
Availability: Published
This book gives practical assistance to everyone who needs to understand, negotiate or draft a confidentiality agreement. It is divided into three parts:
a practical explanation of how English law protects confidential information in a commercial context
a discussion of commercial practice in relation to confidentiality agreements, including commentary on the provisions of such agreements
a selection of precedents for confidentiality agreements (also provided on the accompanying CD).
This edition includes:
a checklist of things to consider before entering into a confidentiality agreement
additional precedents for such situations as confidentiality undertakings by visitors to premises and a job applicants, a confidentiality agreement where disclosure is restricted to a particular person only in an organisation, and a confidentiality agreement with prospective licensees of software
additional drafting notes throughout
additional commentary on when confidentiality obligations are implied (and the extent of the implied obligations) in commercial situations.
---
Contents
1. The law relating to confidentiality
2. Essential features of the law
3. Remedies for breach of confidence
4. The employer - employee relationship
5. Commercial strategy
6. Drafting negotiations
7. Special situations and relationships
8. Managing the flow of information
9. Conclusions
10. Precedents.
About the Author
Mark Anderson is Managing Partner of Anderson Law LLP, a visiting lecturer at the Institute of Brand and Innovation Law, University College London, and a member of the Law Society's Intellectual Property Law Committee. He has over 30 years' experience of drafting and advising on confidentiality agreements for business and university clients. Victor Warner is a solicitor at Anderson Law LLP specialising in intellectual property and technology law.
Category
Company and commercial
Published
September 2014
Publisher
Law Society
ISBN
9781907698972
Format
Paperback + CD
232 Pages