You are here
Drafting Commercial Agreements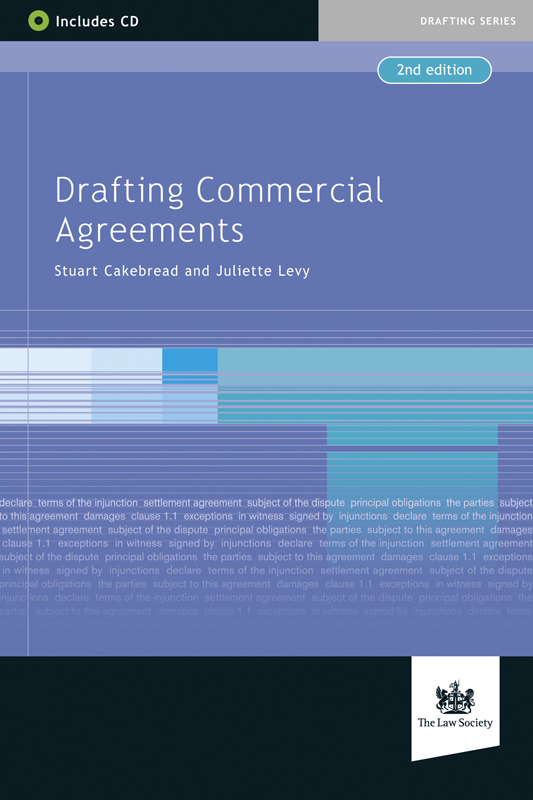 View larger image
Drafting Commercial Agreements
2nd edition
Availability: Published
Drafting and tailoring commercial agreements to your client's needs can take up valuable time in your already busy day. With its range of flexible and adaptable precedents, Drafting Commercial Agreements can help you to draw up agreements accurately and efficiently. Thorough and practical, the book is divided into three parts:
Part 1 examines the basic rules, structure and construction of a commercial contract
Part 2 provides a guide to common commercial clauses, including those relating to exclusion and limitation. There is a discrete chapter on how to draft a liquidated damages clause
Part 3 sets out and provides commentary on a range of commercial agreements.
This second edition contains:
a new set of terms and conditions for e-commerce
a cross-border arbitration clause to try to mitigate the effects of Brexit
a free-standing non-disclosure agreement that can be put in place before contract negotiations begin in earnest
updates to take account of case law developments since the first edition was published (including Rainy Sky v. Kookmin Bank).
The documents included are intended to cover those areas most commonly encountered in commercial practice and include agency, distribution, franchising, joint ventures and the sale and supply of goods

Model clauses and agreements are reproduced on a CD accompanying the book, allowing easy customisation and saving you time and money.
---
Contents
Part I - Basic rules and structure and construction of a commercial contract:
1. Basic rules and structure
2. How a contract is construed – modern rules of construction
Part II - Commercial clauses:
3. Commercial clauses relating to limitation or exclusion of liability
4. Liquidated damages
5. Safety and miscellaneous commercial clauses
Part III - Specific commercial agreements:
6. Agency
7. Buying and selling businesses
8. Contractor services
9. Distribution agreements
10. E-commerce
11. Franchising
12. Guarantees and indemnities
13. Information technology
14. Joint ventures
15. Leasing of equipment
16. Marketing and advertising agency
17. Sale of goods
18. Sponsorship
19. Non-disclosure agreement.
About the Author
Stuart Cakebread is a barrister at Cerulean Chambers practising commercial law, including European and worldwide cross-border litigation and enforcement, international convention and treaty law, civil fraud, banking, commercial agency, non-medical professional negligence and the drafting of commercial contracts. He was called to the Bar by the Middle Temple in 1978 and is also a member of the British Virgin Islands Bar. Juliette Levy is also a barrister at Cerulean Chambers recognised as a leading junior commercial barrister practising in ADR/mediation, civil fraud, commercial litigation, professional negligence, regulatory, treaty and public law and telecommunications law.
Category
Company and commercial
Published
May 2018
Publisher
Law Society
ISBN
9781784461119
Format
Paperback + CD
288 Pages