You are here
Retained EU Law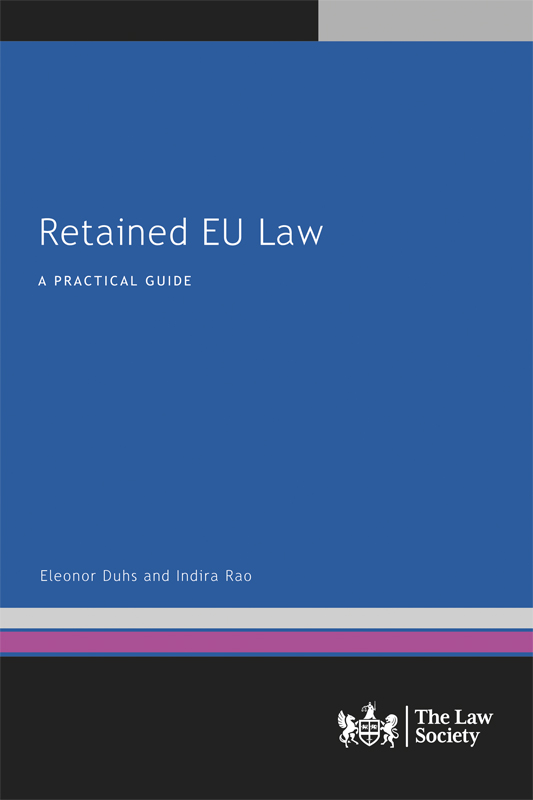 View larger image
Retained EU Law
A Practical Guide
Availability: Published
This book is a practical guide to what retained EU law is and how it functions, illustrated with case studies and examples. It explains the key issues for practitioners in a clear and accessible way. This is essential knowledge for lawyers following the UK's withdrawal from the EU.
The book gives the practitioner the tools they need to apply the new domestic framework introduced by the European Union (Withdrawal) Act 2018 in their area. The book will assist practitioners in identifying which rules in their area of practice have become retained EU law and how they are to be interpreted. The book explains when CJEU case law will and will not be binding on UK courts. It explains the implications of the Charter of Fundamental Rights not being part of domestic law.
The foundations of retained EU law are in EU law and the European Communities Act 1972. This book explains the key concepts of EU law that are a prerequisite for an understanding of retained EU law. The book guides the practitioner through the elements of retained EU law, its interpretation and the relevant rules and exceptions. It covers the powers to make EU Exit regulations to correct deficiencies in retained EU law. It also explains the changes made by the European Union (Withdrawal Agreement) Act 2020.
Retained EU law is also relevant to cross-cutting issues such as data protection compliance, marketing and anti-money laundering. 
The book will provide practitioners with a clear understanding of this complex and developing area.
Please place international orders via telephone number +44 370 850 1422.
---
Reviews
This timely book by two experts is most welcome. This slim, concise and very readable volume unpicks the complexity to explain what has been retained (and what hasn't), how it is to be interpreted, how it can be amended, how it can be challenged or enforced (or not) and what the implications are. (It) has a logical structure, a clear prose style, an excellent table of contents and many practical illustrative examples. Each chapter has an overview and helpful subheadings. The result is clarity.
Charles Clark, Solicitor, Partner Consultant, Linklaters LLP, London
(This) is an invaluable book...Authors Duhs and Rao were intimately involved in drawing up the international treaties and the UK domestic legislation to implement Brexit and are therefore admirably suited to write this book…(it) is practical, both in the way it is written and in the way that it is structured, with helpful signposting and cross-referencing to the different layers underpinning the concept.
David Glass is a consultant solicitor at Excello Law
Contents
1. Introduction; 2. Types of EU law and EU institutions; 3. Case law of the Court of Justice of the European Union; 4. Key concepts – supremacy of EU law; 5. Key concepts - direct effect, indirect effect and Francovich damages; 6. Key concepts – the general principles; 7. Key concepts - fundamental rights; 8. Key concepts – EU competence; 9. EU law in the UK's legal system during EU membership; 10. UK exit from the EU; 11. Retained EU law – EU-derived domestic legislation; 12. Retained EU law - direct EU legislation; 13. Retained EU law – all other EU rights and obligations; 14. Exceptions; 15. Interpretation of retained EU law; 16. Status of retained EU law; 17. Changes made to retained EU law by "EU Exit" regulations; 18. Miscellaneous provisions; 19. Devolution and retained EU law; 20. The European Union (Withdrawal Agreement) Act 2020.
About the Author
Eleonor Duhs was the lead lawyer on the core provisions of the European Union (Withdrawal) Act 2018 at the Department for Exiting the European Union. She is a Director (Barrrister) at Fieldfisher LLP. Indira Rao is Counsel for EU and International Law in the House of Commons. She was the lead lawyer advising on EU Exit legal issues at the Foreign, Commonwealth & Development Office.
Category
Regulation and compliance
Published
February 2021
Publisher
The Law Society
ISBN
9781784461645
Format
Paperback
272 Pages